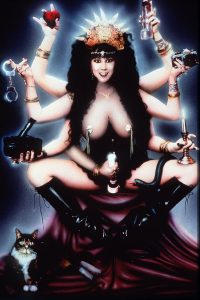 Feminist porn is – at its simplest – pornography created from a feminist perspective. As a genre it takes in a wide variety of voices, ideas and politics and is difficult to define as any one type of porn. Feminist porn is a relatively recent thing, though it is still several decades old. The history of the genre / movement is one of slow buildup over the decades, amplified by the growth of the internet. Feminist porn has evolved over time from a focus on the intended audience (typically porn for women) to what was shown, who was depicted and what ethics are involved in production.
Feminist porn has been around since the 80s when former performers Candida Royalle and Annie Sprinkle set about making their own films shot from a female perspective, created for a female audience. Candida's Femme line of films were initially dismissed by adult company executives as unmarketable – until the first video did huge business with women and couples. Candida went on to make 17 more films throughout her directing career and is known as one of the founders of feminist porn. Meanwhile, Annie Sprinkle directed her own films including the Herstory of Porn and created a feminist one-woman show called Post-Porn Modernist which explored her relationship with sex work, porn and spirituality.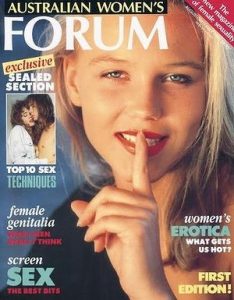 Magazines like Playgirl, For Women, On Our Backs and Australian Women's Forum also took the stance that women had a right to enjoy sexual material, becoming hugely successful in the 70s, 80s and 90s. Erotic fiction publications like Susie Bright's Herotica series gave women the opportunity to explore sexuality through the written word. Adult stores like Good Vibrations and Toys in Babeland began to sell videos and sex toys specifically to a non-male audience and it became apparent that there really was a market for porn that offered a feminist perspective.
Feminist porn really took off in the new millennium, when the internet created a private, safe space for women to explore sexuality without stigma. The first paid porn site for women was called Purve, which launched in 1998. The New York Times called it "something of a cultural milestone." Other sites like For The Girls emerged in the years after, catering to straight women, daring to offer photos of naked men with erections – something previously denied in magazines. Meanwhile early queer sites No Fauxxx, Good Dyke Porn and Crash Pad Series appeared as the decade moved forward, creating a space for authentic depictions of lesbian and queer sex.
Feminist porn had a huge boost with the arrival of The Feminist Porn Awards in 2006. Created by Chanelle Gallant for Canadian adult store Good For Her, the awards were originally a one-off event that aimed at celebrating and promoting some of the early female pioneers of independent and alternative porn. The event was a huge success and attracted significant media attention so the organizers decided to keep the show running. Ultimately, the Feminist Porn Awards ran for ten years until 2015 and can be given credit for encouraging the significant growth in feminist porn over that time. It has since been rebranded as the Toronto International Porn Festival.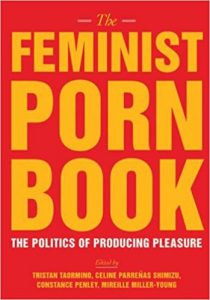 In 2013 The Feminist Porn Book – edited by Tristan Taormino, Mirelle Miller-Young, Celine Parrenas Shimizu and Constance Penley – marked another signpost in the growth of feminist porn. This compilation of essays by porn performers, directors and academics sought to provide an intellectual discussion of pornography from a feminist perspective while also acknowledging the work of the people actually making that porn. It was (and is) a groundbreaking book because it didn't rely on the usual anti-porn stance taken by many feminists and sought to amplify the voices of those within the industry.
The book inspired the Feminist Porn Conference, held in Toronto in 2013, just after the porn awards. This brought together many of the book's authors along with other academics and industry workers, keen to further discuss how feminism could inform the production and consumption of pornography. Topics discussed included the history of feminist porn, authenticity and realism, consent, queer identities, sex work, disability and kink, along with the usual more academic, critical theories and analysis. Film screenings and industry advice also featured. A second conference was held in 2014, though the event lapsed after that.
In March 2014 the Porn Studies academic journal also launched. This has provided another academic platform for the discussion of feminist porn, welcoming contributions from performers and directors as well as respected academic voices.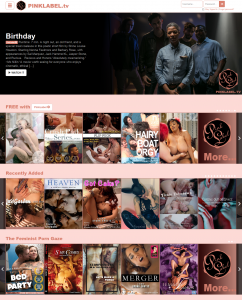 In the years since 2010, feminist porn as a genre has expanded to include many more new voices and perspectives, reflecting an increasing awareness of gender identity, sexuality and feminist ideals of intersectionality. Sites like Pink Label TV have provided a platform for smaller companies and new voices within feminist porn. Crowdfunding sites like Patreon have also created an alternative online space for porn filmmakers to showcase and sell their work. Even the mainstream sections of the industry have acknowledged the growth of this porn perspective, with major award nights XBiz and AVN creating "feminist porn" and "alternative porn" categories.
Debate as to definitions and boundaries still surround the concept of feminist porn. It is a nebulous idea, hard to pin down as to what it is and what it means. Some producers have shied away from the label while others have been keen to embrace it. A few filmmakers and performers have denounced the phrase as simply a marketing label with no ethical substance behind it (a stance echoed by some anti-porn activists who insist that feminist porn is just a shill for "big porn").
Nonetheless feminist porn remains a force in the adult industry. It's a handy marker for identifying pornography that doesn't necessarily follow the cliches and rules of mainstream porn and people are still seeking it out.
By Ms. Naughty, June 2018
Ms. Naughty runs feminist porn site Bright Desire.