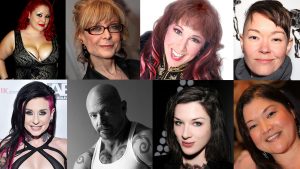 Feminist porn performers are a vital part of the feminist porn movement. Ethical porn production typically focuses on how well sex workers and performers and treated and this means that those who appear in porn typically have more say in the production. More and more feminist porn performers are actively speaking out about their role in porn production and many are also working behind the camera.
This page lists some of the better known feminist porn performers. They have either received awards, written about porn, feminism or sex work, or have otherwise been noted as feminist porn workers. This is not a comprehensive list and merely gives a glimpse at who is working (or has worked) in this area.
Pioneering Feminist Porn Performers
Nina Hartley
Nina began performing in porn in 1984 and is still working over 30 years later. A self-described sex positive feminist, Nina has also directed dozens of films with a focus on sex education – some of the first adult films to do so. You'll find her latest work at Nina.com
Annie Sprinkle
After working in the ticket booth at a porn theatre showing Deep Throat, Annie Sprinkle met that film's director Gerard Damiamo and became his mistress. Her first porn film appearance was in 1975 and she appeared in over 200 films. Her 1981 film Deep Inside Annie Sprinkle was groundbreaking for showing the person behind the porn. Annie also worked with the Club 90 members and directed a scene for Candida Royalle's Femme series. In 1992 she made the Sluts and Goddesses Workshop video and 1997's Herstory of Porn analyzed the various scenes she'd been in. Her live show Post Porn Modernist looked at porn and her life from a feminist perspective. Annie is now an artist and ecosexual warrior.
See also: Candida Royalle, Veronica Hart, Veronica Vera, Gloria Leonard.
US-Based Feminist Porn Performers
Adrianna Nicole
A friendship with Nina Hartley led Adrianna Nicole into the porn industry in 2005 and she became well known for her hardcore kink, rough and anal scenes. She has over 250 acting credits to her name. Adrianna became a muse of feminist porn director Tristan Taormino and appears in many of Tristan's sex education videos. She retired around 2013.
April Flores
Working with her director husband Carlos Batts, April Flores (aka Fatty D) is well known for her work as a plus-size porn actress. She was the Feminist Porn Awards Heartthrob of the Year in 2010 and the winner of the inaugural "BBW Performer of the Year" award at the AVNs. She contributed to the Feminist Porn Book and has written and spoken on the topic of plus-size women in the industry.
Courtney Trouble
Director and photographer Courtney Trouble has been performing in porn – usually their own – since the early 2000s. Their site NoFauxxx.com was one of the first queer porn sites and they worked both in front of and behind the camera. Courtney has also in other feminist porn productions including Crash Pad and Bright Desire.
Danny Wylde
Christopher Daniel Zeischegg worked in porn for ten years under the name Danny Wylde, appearing in over 600 films. He appeared in several Feminist Porn Award-winning productions and an essay of his appears in the Feminist Porn Book. He has written about male performers' experience within the industry. He is also part of adult performer advocacy groups and has written several novels.
Drew DeVeaux
Drew DeVeaux is a femme trans porn star who has appeared in numerous FPA-nominated and -winning films. Drew was also part of several panels at workshops at the FPAs.

Dylan Ryan
Dylan's first porn film was The Crash Pad by Shine Louise Houston. She went on to star in a swathe of queer porn and kink films including a film that revolved around her: 50 Shades of Dylan Ryan. She was named the Feminist Porn Awards Heartthrob of the Year in 2009. "I do identify as a feminist porn performer," she told HuffPost. "I feel the work I do comes from an empowered perspective…from owning my authenticity." Dylan has a chapter in The Feminist Porn Book.
James Darling
FTM trans performer James Darling has appeared in numerous feminist porn productions such as Crash Pad Series Queer Porn TV. He won the Feminist Porn Awards Heartthrob of the Year 2012 and his site FTM Fucker also won an honored website award at the FPAs. James has also directed numerous films.
Jiz Lee
Genderqueer star Jiz Lee is one of the best-known feminist porn performers. Their first appearance was in 2005's The Crash Pad and they have since worked with numerous feminist porn directors, each scene carefully vetted by Jiz. They won the Feminist Porn Awards Heartthrob of the Year in 2013 and have also won an FPA for directing. Jiz edited Coming Out Like A Porn Star and their essay appears in the Feminist Porn Book. Jiz works with Shine Louise Houston at Pink Label TV.
Joanna Angel
Joanna Angel created her own alt-porn, punk-style porn site Burning Angel in 2002, performing in her own scenes before the larger US studios began hiring her. She told Slutever: "I don't make porn that I don't want to watch, and I don't like it when women look like they aren't enjoying themselves. That's my own personal way of making feminist porn."
Madison Young
Madison Young performed in her first adult productionin 2002 and has appeared in over 200 films, often with a BDSM or fetish theme. She has worked with a huge variety of studios and has always brought a feminist perspective to her work. She began directing in 2005. She has also written a memoir and her essays appear in numerous books about feminism, sex work and porn.
Mickey Mod
Mickey Mod made his first film for Kink.com in 2009 and has since appeared in over 250 films, often with a kink or BDSM focus. Mickey has been a favourite with feminist porn directors due to his respect for co-stars and easygoing nature. He is an advocate for performer rights and has written and spoken often about ethical porn.
Siouxsie Q
Siouxsie Q is a feminist, sex-worker activist and porn performer from San Francisco. Originally a stripper at the Lusty Lady, Siouxsie has appeared in dozens of feminist-identified porn productions including Crash Pad Series, Kink.com and Trouble Films. Siouxsie runs the Whorecast podcast and is politically active with adult industry advocacy groups.
Stoya
See also:
Aiden Starr
Akira Raine
Andre Shakti
Arabelle Raphael
Billy Castro
Carol Vega
Chelsea Poe
Dana DeArmond
Deviant Kade
Drew DeVeaux
Eden Alexander
Ela Darling
Julie Simone
Justine Joli
Kelly Shibari
Kimberly Kane
Kitty Stryker
Lily Cade
Lorelei Lee
Luke Hotrod
Ned Mayhem
Penny Flame
Sophia St. James
Syd Blakovich
Tina Horn
Tobi Hill-Meyer
Wolf Hudson
Europe-Based Feminist Porn Performers
Bishop Black
Originally from the UK, Bishop Black has a background in art and performance. His porn debut was Having My Cake in 2015 and has since made a name in numerous indie and feminist films including Fluid0 by Shu Lea Cheang. He won a PorYes Feminist Porn Award in 2017 for his performance work.
Candy Flip
Along with partner Theo Meow and the Meow Meow collective, Candy Flip has appeared in a growing body of feminist and alternative porn scenes including Hanna and the Keta-Boys. Candy also starred in Fluid0.
Jasko Fide
Jasko first worked for queer / lesbian director Goodyn Green and has since worked with XConfessions and Four Chambers, among others. She told online magazine Her You Are: "For me doing porn is a feminist act of raising awareness that there are all different kinds of genders, body types and sex acts that most of us don't know from mainstream porn. Apart from that it's empowering, hot and important. It frees me."
KAy Garnellen
French-born and Berlin-based, trans man KAy Garnellen has made many appearances in the films emerging from the German alt-porn scene including the Feminist Porn Award-winning Biodildo. KAy was also the director of a segment in Fucking Different XXY and writer of Baby You're Frozen. KAy has appeared in experimental film and documentary exploring sexuality and gender.
Lina Bembe
Mexican-born and Berlin-based, Lina Bembe made her first porn film in 2015 and hasn't looked back. She has since worked for XConfessions, Bright Desire and indie director Bruce La Bruce. She has also collaborated to create experimental films exploring ethnicity, gender and sexuality, the first being Fluidos Sudakas. She was a Performer in Focus at the Berlin Porn Film Festival in 2017.
Morgana Muses
Morgana Muses decided to leave behind her failed marriage and dull life as a housewife and become a porn star. She began making porn films at age 45 and hasn't looked back, funding and producing her own films and starring in all of them. She won Heartthrob of the Year at the 2015 Feminist Porn Awards.
Parker Marx
UK- and Berlin-based performer Parker Marx made his debut in a pegging scene with Pandora Blake for Bright Desire in 2015. He has since performed in a variety of straight, bi and gay scenes for feminist companies including XConfessions. He is now working on a sex education project with several other Berlin performers.
Pandora Blake
Pandora Blake started their fetish site Dreams of Spanking in 2011 after creating their first spanking film in 2006. They have since become a free speech activist and porn advocate after the UK government forced them to close the site under new anti-porn laws in 2016 (they eventually won the battle to re-open it). Pandora won Best BDSM Scene for "Instructed" at the Feminist Porn Awards in 2015.
Rooster X-Ray
Rooster is a UK-born cinematographer who moved in front of the camera for the first time in 2016's Trinity by Ms. Naughty. He has since worked with various European directors and was named Heartthrob of the Year at the Toronto International Porn Festival (formerly the FPAs).
Sadie Lune
US-born Berlin artist and performer Sadie Lune has dozens of alt-porn appearances to her name including Too Much Pussy, Fluid0, Marriage 2.0, Mommy is Coming and 50 Shades of Dylan Ryan. She co-directed and starred in Baby You're Frozen in 2012. Shehas made a name as a visual and performance artist, photographer, public speaker and workshop facilitator, with a focus on queer sexuality, parenting and sex education.
See also:
Blath
Dante Dionys
Emy Fem
Finn Peaks
Lilith Jovian
Lo-Fi Cherry
Mad Kate
Marcus Quillan
Paulita Pappel
Image credit: Various feminist porn performer photos compiled, via Wikimedia Commons.