Genderqueer porn star Jiz Lee has legendary status in feminist porn circles. In "Dear Jiz", they explore the relationship they have with their fans and what Jiz's work has come to mean over the years.
In the film Jiz runs a bath, luxuriates in the water and then masturbates to orgasm. All the while, we hear Jiz's voice, reading a selection of fan letters as the water creeps higher in the tub. The fans talk about the influence Jiz has had on their lives, how Jiz's public embodiment of genderqueer sexuality has been an inspiration, giving others the courage to explore their own gender, queerness and sexuality.
"Dear Jiz" has had an extended run at festivals around the world.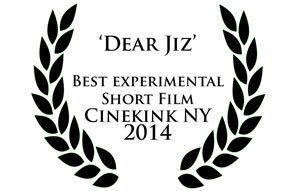 Winner, Best Experimental Short, Cinekink New York 2014

Official Exhibit – On Our Backs The Revolutionary Art of Queer Sex Work, Leslie-Lohman Museum New York, 2019-2020
Official Selections:
Pop Porn Film Festival Brazil 2017
Seattle Transgender Film Festival 2017
Porn Film Festival 2017
First Transfeminist Film Exhibition 2016
NYC Porn Film Festival 2016
Muestra Marrana Post Porn Film Fest Mexico 2015
MIX NYC Queer Film Festival 2014
Tilde Transgender Film Festival Melbourne 2014
Cinekink New York 2014
Berlin Porn Film Festival 2013
Perv Film Festival Sydney 2013
The film appears at Bright Desire
* They and their are Jiz's preferred pronouns