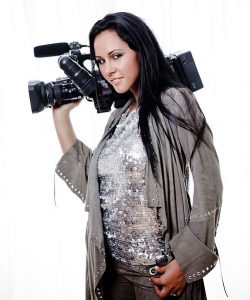 Feminist porn directors seek to make pornography that reflects their own feminist ideals and their own thoughts on what makes for good porn. The directors listed here all have their own approaches to making porn, such that it is difficult to make broad statements about genre or type. This, however, is typical of feminist porn; it is self-identification as feminist that is important and the subsequent diversity of visions reflects how broad a church this movement can be. Here you'll find feminist directors who make hardcore or gonzo porn, those who make high-end features and those who shoot "amateur" content. Some have degrees in filmmaking or the arts, others are self-taught.
There are also a significant number of performers who have moved behind the camera to make their own style of porn. This typically brings a sensitivity toward the performers and an understanding of what's required in a porn performance.
Here's an incomplete list of some of the more well-known feminist porn directors, with some info about them.
Buck Angel
In 2005 Buck Angel became the first female-to-male trans porn star and began directing and releasing films under his own label, Buck Angel entertainment. He made waves in the mainstream industry and became the only transman to win AVN's Transsexual Performer of the Year in 2007. After a string of films in which he performed, Buck moved behind the camera and also took up public speaking and sex education and advocacy work. Buck's explicit documentaries about other transmen led to a Most Tantalizing Trans Film award at the 2012 Feminist Porn Awards.
Vex Ashley
Performer and director Vex Ashley first began the Four Chambered Heart project in 2013. Coming from a background of analog photography and fresh from working as a webcam model, Vex began shooting her own surreal pornographic visions with help from crowdfunding sources. Four Chambers has since grown into a major production company thanks to ongoing, monthly crowdfunded support from fans. Vex says her explicit films are "magical realism porn" and they have a distinctly "arty" bent with a taste for wet and messy or public sex scenarios.
Maria Beatty
Born in Venezuela, Maria Beatty has made a career directing kinky lesbian / queer films with a distinctive noir feel, with nods to surrealism and early German cinema. Her first erotic film was The Black Glove in 1997 and she has since made dozens more queer films. Maria also appeared in several of her own films. She was awarded a PorYes Feminist Porn award in 2009.
Anna Brownfield
Australian Anna Brownfield made her first feature film in 2005. The Money Shot – about a cash-strapped woman who decides to make her first porno – closed the Melbourne Underground Film Festival (MUFF) that year and won Best Director, Best Screenplay, and Best Male Lead. Anna has since made several explicit features, documentaries, vignettes and short films. The Band won Hottest Feature Film at the Feminist Porn Awards in 2010 and The Bedroom won Best Direction of an Original Concept at the 2017 Toronto International Porn Festival.
Carey Gray
Carey Gray is a transgender man from Toronto with an interest in photography, BDSM and porn. He won the Golden Beaver Award for Canadian Content at the FPAs for his films Power At Play and also received a nomination for Switch: Hometown Hotties.
Michelle Flynn
Australian photographer and filmmaker Michelle Flynn got her start working at Feck, both in front of and behind the camera. She has since created her own production company LightSouthern which specialises in beautiful films, often made in 3D – virtual reality. Her work has been nominated for numerous AVN awards.
Goodyn Green
Goodyn Green is a Danish, Berlin-based queer director who documents a variety of queer sexual encounters. She started out as a photographer and made her first foray into porn in 2013. Her work includes Shutter, Blue Room and Breathe. She has also worked with Lust Films. Goodyn received a PorYes Feminist Porn Award in 2015.
Tobi-Hill Meyer
Tobi Hill-Meyer is a trans activist, performer, writer and filmmaker. In 2010 Tobi made her filmmaking debut with Doing It Ourselves, a groundbreaking exploration of trans sexuality showing trans women having sex in a way they wanted to be presented. She won the Emerging Filmmaker award at the Feminist porn Awards that year. Tobi followed with several other features and several short films, winning Most Dazzling Docuporn on 2015 for Bound By Borders along with Honorable Mentions in previous years. Tobi now works as a speaker and author.
Shine Louise Houston
Shine Louise Houston was working at San Francisco women's sex toy store Good Vibrations when she first decided to make queer porn, seeing a gap in the market. Her background in filmmaking meant her first feature, 2004's The Crash Pad, was a huge success. After making several more features she founded Pink and White Productions in 2008 and created TheCrashPadSeries.com website, which features a wide variety of queer porn. Shine also created Pink Label TV, a distribution platform for queer and independent porn filmmakers. Shine has won six Feminist Porn Awards including Movie of the Year for 2009's Champion.
Petra Joy
Petra Joy was born in Germany but emigrated to Britain in the 90s. She had a career producing for television before she moved into photography and filmmaking. Her first erotic film for women, Sexual Sushi, was made in 2005, self-funded under her own label Strawberry Seductress. Petra has since made eight features and curated the Her Porn DVD series with guest directors. Her audience has always been straight women. The Female Voyeur which won Sexiest Straight Film at the 2012 Feminist Porn Awards. She has also written several books. You'll find her work online at Cinema Joy.
Jennifer Lyon Bell
Harvard graduate Jennifer Lyon Bell runs Blue Artichoke Films, a film company that makes artistic erotic films that seek to show sex in an emotionally realistic way. Working from Amsterdam, Jennifer's films are well-crafted with a focus on cinematography, believable story and good acting. The aim is to present sexuality with a fresh perspective. She and co-director Murielle Scherre won Best Direction award at the 2010 Feminist Porn Awards and her feature Silver Shoes won Movie of the Year in 2014. Jennifer has also curated film festivals and spoken about porn and her work at numerous events.
Erika Lust
Stockholm-born Spanish director Erika Lust made her first explicit film The Good Girl in 2004. Her aim was to make a film that women would enjoy and the scene played on the cliche of the pizza delivery guy. She released the film under a creative commons license and saw it go viral. This launched her adult filmmaking career and she shot several features including Five Hot Stories for Her and Barcelona Sex Project before setting up Lust Films and launching her websites including the hugely successful XConfessions. Her film Cabaret Desire won Best Film at the Feminist Porn Awards in 2012. She also won for individual XConfessions scenes in 2014 and 2015.
Ms. Naughty
Originally a librarian and journalist, Ms. Naughty (aka Louise Lush) began making and curating porn online in 2000, founding one of the first porn for women sites ForTheGirls.com in 2003. In 2009 she directed her first porn film, That's What I Like, which went on to win the Petra Joy Award for First Time Female Filmmakers. Since then she has shot over 60 scenes for her site Bright Desire, – which was an Honored Website at the Feminist Porn Awards in 2015 – and a self-funded feature film, The Fantasy Project. She has also won two Honorable Mentions at the FPAs and Best BDSM Scene in 2015 for Instructed, her collaboration with Pandora Blake. In 2017 she was named Indie Porn Icon at the Toronto International Porn Festival and received a PorYes European Feminist Porn Award. Ms. Naughty has also appeared as a speaker at conferences and written about porn for women for several books, journals and media outlets.
Ovidie
French director and feminist Ovidie was originally opposed to pornography. In the 90s, however, she decided to experience the industry for herself and starred in over 60 adult productions, winning several awards. Seeing that porn was not as exploitative as she had been led to believe, she moved behind the camera in 2003, working with a variety of French and European producers and companies. She has made 11 erotic films as well as a number of documentaries and she has regularly appeared in the French media discussing porn and sexuality. She has won two Feminist Porn Awards including Movie of the Year for Infidelity in 2013. Recently, she made waves as a journalist investigating the shady world of major porn company Pornhub in her documentary Pornocracie. Ovidie as also written 8 books about female sexuality.
Candida Royalle
Long considered the pioneer of the feminist porn movement, Candida Royalle started out as a performer. After forming Club 90, the feminist group of performers that also included Annie Sprinkle and Veronica Hart, Candida decided to move behind the camera and make porn films for women and couples in 1984. Despite scepticism from the major studios, her first feature Femme was a huge success. Candida went on to make 17 feature films under her Femme label, all of which are still available today. Candida was awarded the Lifetime Achievement in Women's Erotica at the first ever Feminist Porn Awards in 2006. Sadly, Candida passed away in 2015.
Julie Simone
Julie Simone has been a part of the BDSM and kink since the late 90s. Exploring roles as both bottom and top, Julie got into porn in the 2000s, earning the title of "Best Rigger in the Industry" in 2004. Her films explore many areas of kink and fetish including female domination, latex and rubber, spanking and flogging and many other BDSM fields. She has starred in over 350 scenes and directed many more and her films have won numerous awards in the US and Europe. Her film Vicious Strap-On Bitches won Best Kink Film at the FPAs in 2012 and she was named Indie Porn Icon in 2013. She runs her own site JulieSimone.com
Anna Span
Anna Span made her name as the first female director of porn in Britain. In 1997 while attending Saint Martins College of Art she wrote a dissertation entitled "Towards A New Pornography". This outlined her vision of a type of porn she herself would enjoy, shot from a female perspective. In 1999 she created Easy on the Eye films and shot over 160 scenes, releasing numerous award-winning DVD titles. In 2007 she was named Indie Porn Pioneer at the Feminist Porn Awards. Anna has also authored several books on pornography and spoken in various debates about the issue. She ran for a seat in the English parliament in 2010 and then emigrated to the US.
Jacky St. James
In 2010 Jacky St. James submitted a script to major US adult company New Sensations, which was holding a competition to find new writers. Her script Dear Abby won and Jacky went from a career in acting and advertising to porn scriptwriter. Her film went on to win Best Screenplay at the 2012 AVN awards and her career was assured. At time of writing she had 75 adult film writing credits and 78 directing credits to her name and she won Sexiest Straight Movie at the Feminist Porn Awards in 2014 and 2015. In 2016 she won the XBiz award for Director of the Year – Body of Work. Jacky's films are typically high-budget, story-based productions. She describers herself as a sex-positive feminist.
Tristan Taormino
Tristan Taormino is one of the co-editors of The Feminist Porn Book and she has won seven Feminist Porn Awards over the years. She originally made a name for herself in the 90s giving advice about anal sex. In 1999 she directed and starred in her first film The Ultimate Guide To Anal Sex, based on her book of the same name. Her first even scene was an all-star anal gang bang shot in gonzo style. She went on to create the award-winning Chemistry series, a kind of porno Big Brother reality show which paired up porn stars in a house over the course of a weekend. Tristan then directed the Expert Guides sex education for major company Vivid. In 2013-14 she organized the Feminist Porn Conference in Toronto. She has since become a sex educator and speaker focusing on polyamory.
Courtney Trouble
In 2002 Courtney Trouble launched NoFauxxx, considered to be one of the first queer adult sites. Now renamed Indie Porn Revolution, the site features people of all sexualities, body types, genders and race and is insistent on not categorizing content according to standard porn "genres". Courtney has also directed sixteen full-length features and documentaries and they have won eleven Feminist Porn Awards. In 2010 they joined up with performer Tina Horn to create Queer Porn TV which won an Honored Website Award at the FPAs. Courtney is currently studying photography and art.
Gala Vanting
Australian performer and director Gala Vanting – along with collaborator Aven Frey – has made a name by creating "slow porn", artistic and often edgy explicit films that explore BDSM, kink, female fantasy and human relationships. Originally a performer and photographer for the Feck sites, Gala created Sensate Films to explore her alternative vision of porn filmmaking. Short film Amber won an Honorable Mention at the FPAs in 2013 and the intense BDSM documentary Love Hard won Hottest Kink Film in 2015. Gala also regularly writes and speaks about sex work and porn.
Madison Young
Madison Young began her porn career as a performer in 2002 and moved into directing in 2005. She is best known for her BDSM and fetish work and her queer-focused films. She has won five Feminist Porn Awards including Indie Porn Pioneer in 2009. Along with her porn work, Madison has made a career as an artist, speaker and author. Madison jointly runs the Femina Potens gallery in San Francisco and is also touring a live show about her work in porn called "Reveal All Fear Nothing."
Time and space mean I can't give everyone their own bio. To help you find more, here's a roughly sorted list of other feminist porn directors:
Feminist Porn Pioneers
These directors / performers were trailblazers, creating some of the first feminist porn movies in the 80s and 90s:
Annie Sprinkle – Inside Annie Sprinkle, Post Porn Modernist Show
Betty Dodson – Sex for One and educational videos
Dorrie Lane – House O'Chicks, vulva puppets
Nan Kinney – Fatale Productions, first authentic lesbian films
Nina Hartley – Legendary performer, also director
Shar Rednour and Jackie Strano – Bend Over Boyfriend, SIR Productions
Suze Randall – Playboy photographer, 80s porn director
Veronica Hart – 80s Playboy director
Primarily Queer or Lesbian Porn Directors
Angela Phong – Canadian lesbian porn director
Aeryn Walker – NaughtyNerdy.com
Audacia Ray – The Bi Apple, sex worker activism
Ben Berlin – Hard BDSM
Bree Mill – Girlsway
Cheryl Dunye – Mommy Is Coming, exploring race and lesbianism.
Dana Dane – Erocktavision
Dana Vespoli – Boy / Girl
Emilie Jouvet – French director, Too Much Pussy
Jincey Lumpkin – Juicy Pink Box
Kathryn Annelle – Triangle Films
Kate Sinclaire – CineSinclaire.com
Liandra Dahl – Feck, LiandraDahl.com
Lily Cade – LilyCade.com
Loree Erickson – Queer, crip porn
The Lust Garden – Crowdfunded queer porn collective
Manuela Kay – German queer porn, film festival curator
Maria Blah – Spanish queer short films, Support Your Local Pornographers
Max Disgrace – London queer porn
Nenna Joiner – Feelmore adult gallery, Tight Places: A Drop of Color
Nikki Silver – NaughtyNatural.com
Onyx Keesha – Queer women of color films, Xen
Sadie Lune – Baby You're Frozen, sex education
Sky Deep – Enactone
Sluts4Sluts – European porn collective
Tina Horn – Queer Porn TV
Todd Verow
Charles Blum
Zahra Stardust – ZahraStardust.com
Kink and Fetish Porn Directors
Aiden Starr – Female domination, Vicious Vixens series
Maria Beatty – Lesbian fetish, The Black Glove
Pandora Blake – DreamsOfSpanking.com
Trans Porn Directors
These directors make trans films and are trans themselves.
Alyx Fox – Foxhouse Films
Buck Angel – First FTM porn star
Chelsea Poe – Poe Productions
Evie Eliot – Twitterbaiting, artist
Skyler Braeden Fox – Hello Titty, The 36 Year Old Virgin
Experimental or Non Classifiable Porn Directors
Abigail Gnash – Experimental queer porn
Amaury Grisel
Ingrid Ryberg – Swedish feminist porn
Joanna Rytel – Short films
Harvey Rabbit – Queer short films
Marit Ostberg – Swedish feminist porn, Dirty Diaries
Mia Engberg – Swedish feminist porn, creator of Dirty Diaries
Shu Lea Cheang – Japanese / German experimental porn, Fluid0
Primarily Straight Porn Directors
These directors work (or previously worked) in the mainstream industry or their focus is often heterosexual sex, though this is not always the case.
Angela White – AngelaWhite.com
Angie Rowntree – Sssh.com
April Flores – BBW movies, worked with her husband Carlos Batts
Astrid Glitter – New Zealand director
Camille Crimson – Art of Blowjob, Art of Cunnilingus sites.
Estelle Joseph – City of Flesh Series
Francesca Le – LeWood Productions
Holly Randall – High end mainstream photography and video
Jamye Waxman – Sex education videos
Jessica Drake – Sex education videos
Jessica Nillson – All About Anna, Puzzy Power
Joanna Angel – Suicide Girls-style, hardcore punk porn
Katybit – Last Call, German straight and queer porn
Kayden Kross – TrenchcoatX
Kelly Holland – PlaygirlTV, Chick Media
Kimberly Kane – Alt porn, My Own Master
Lisbeth Lynghøft – Pink Prison, Puzzy Power
The Madame – No Artificial Sweeteners, shoots entirely on an iPhone.
Mimi Balfour – Man of My Dreams
Morgana Muses – Having My Cake Permission4Pleasure.com
Nina Lennox – Inpulse Pictures
Olympe de G – Works with Lust Films, The Bitchhiker
Paul Deeb – Trains, Pillow Book Productions
Paulita Pappell – Lustery.com, work with Ersties and Lust Films
Poppy Cox – Bike Smut, also Lust films work
Skye Blue – Playgirl
Sophie Delancey – The Art of Blowjob
Spir@lena – House Call
Stormy Daniels – Wicked Pictures, Trump tormentor
Stoya – TrenchcoatX
Tina Tyler – Handyman series
Tony Comstock – Real life couples documentary porn
Trixie Fontaine – TastyTrixie.com
Urvashi – Spark Erotic Films
You may also want to visit Female Porn Directors
A lot of feminist porn performers are also directors so check out that list as well!
Image credit: Laly Vallade by Sebastiene Pujos, licensed under Creative Commons via Wikimedia Commons
Check out our list of Feminist porn sites and our recommended feminist porn films.